This photo essay series examines one photo, it's back story and what it means to me.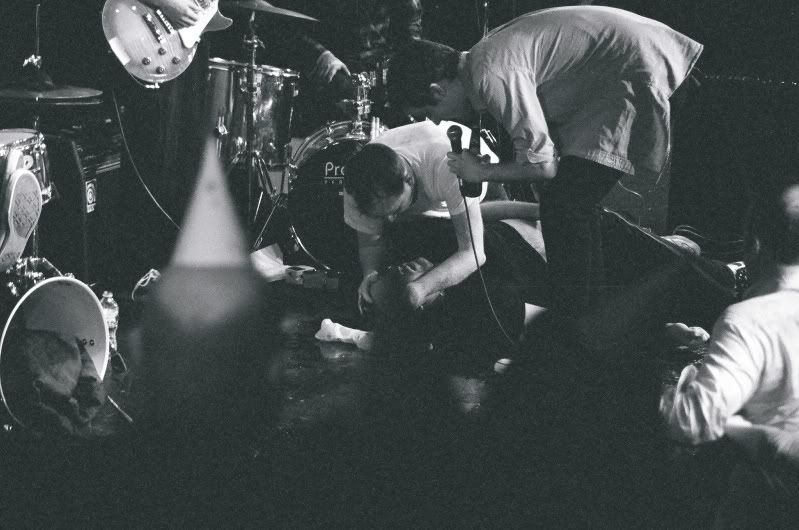 Chris Gethard hovers over a temporarily unconscious Don Fanelli, with guidance from Ben Rodgers.
I've never been asked "What is The Chris Gethard Show like?", but if someone did ask me that I would show them the picture above.
First, a little context for the picture.
This was the Craigslist Show, where Chris and the cast decided to build a show around stuff they found on Craigslist, but the caveat was that they started preparing for the show only hours before. In one of the final bits, Will, Shannon, Don and Chris would battle for a loose football. Each member represented a section of the audience. Who ever had the ball in their possession by the time the LLC had stop playing, the winner would get a bag of goodies they had received from someone on Craigslist and share with their respective audience section. They went all out and not in a playful way. It might have started out playful, but by the end of it Don was lying on the floor unconscious.
The look on Gethard's face when he saw that Don wasn't playing around, that he really wasn't responding, will forever be sealed in my memory of the show. The show was always so raw that someone might actually lose consciousness and not as a controlled bit. "It was staged" someone might say. And knowing Gethard's love of wrestling, there's a pretty good chance it was. But that look he had. That said otherwise.
But what the picture represents to me was the experience of The Chris Gethard Show that was unlike anything I've seen at the UCB Theater. The theater is known for being at the fore front of comedic ideas, shows and performances. But even this show was different. Part of it came from Chris' own ethos about being on that stage. To be honest. Always. And The Chris Gethard Show was honest. Even if it was to the detriment of the show. You can't have your father on your show taking ANY questions from ANYONE about ANYTHING without striving for honesty. You can't do a Night of Zero Laughs without wanting to do something different. You definitely can't do it twice without pushing some boundaries.
You could leave the show angry (Lonely Coward's Show), energized (Wheel of Degradation), shocked (Telethon of Shame), touched (Mitchell Stephen Fesh's Show) and astonished (Diddy's Show). But no matter what it was, I cherished the nights I spent watching Shannon display a sideshow of her poop, or watching Don Fanelli get waxed in pure agony, or seeing Will Hines beat Chris at his own game, or seeing a wrestler jab another with a broken stick, or seeing a friend, like Riley, making my (and probably his) comedy idols laugh. That to me was (and will still be) special.
The first time I ever saw Chris Gethard was with the Stepfathers at the 2007 Del Close Marathon where he and Shannon O'Neill got into a physical fight halfway through their set. I saw him again on September 30th, 2008 when he was coming to Whiplash as his character Gallagher Three, challenging Gallagher to respond to him and his fruit smashing bit. I even got to smash some fruit right next to Chris. (Skip to 3:34 to see me.)
Since then I've seen him perform numerous times and have enjoyed what he does immensely. But now there's no way I'll ever see him, without thinking about that look.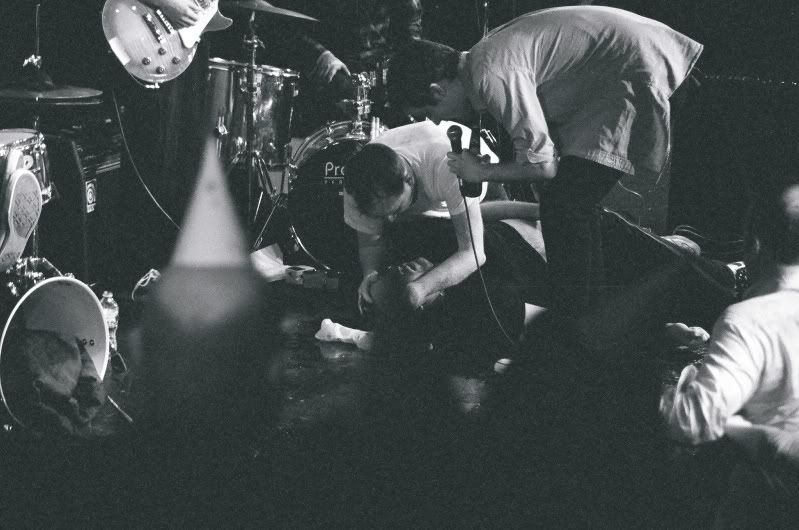 The Chris Gethard Show