The Del Close Marathon is the biggest improv event in the world. 3 days of an obscene amount of improv and it's hands down the best weekend of the year for me. This year was special to me partly because it was my 5th year going to the festival, but more so because I was in it! More on that on Day 2.
I got out of work early to head over to line up around 2:30pm.
THE BROTHERS TOWNSEND.
WILL AND THE COOPERS WITH A SMALL SOFT DRINK.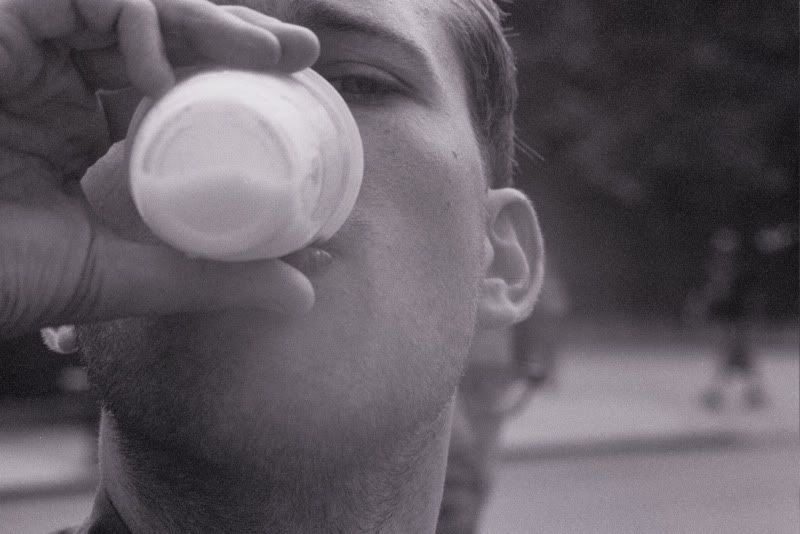 RUDEL GOING IN.
RILEY BRANDISHING HIS DCM PASS.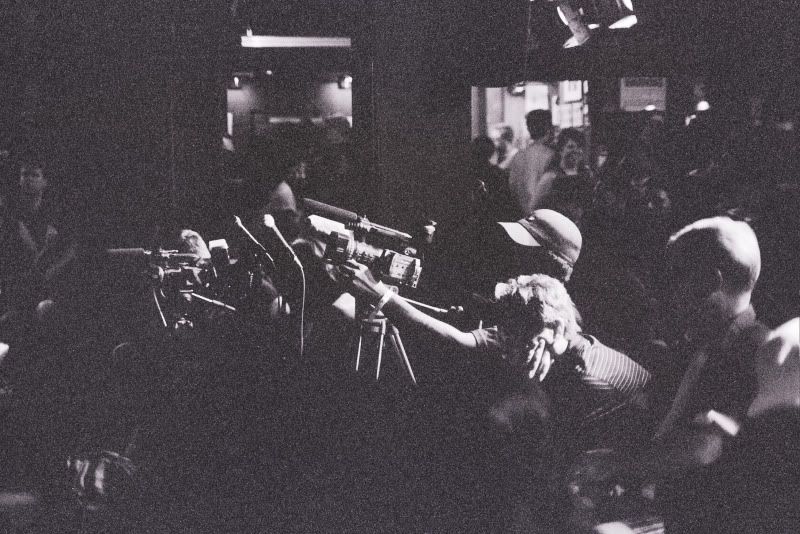 THE PRESS AND YOWIE.
-Besser, Walsh, Roberts and Horatio were present. They did a scene where Roberts played Stevie Wonder who was about to be informed by Horatio (Stevie's new assistant) that Michael Jackson died. Even in that scene you could see the game being hit, resting it and hitting it again.They are the best.
THE UCB SANZ AMY BUT PLUS HORATIO.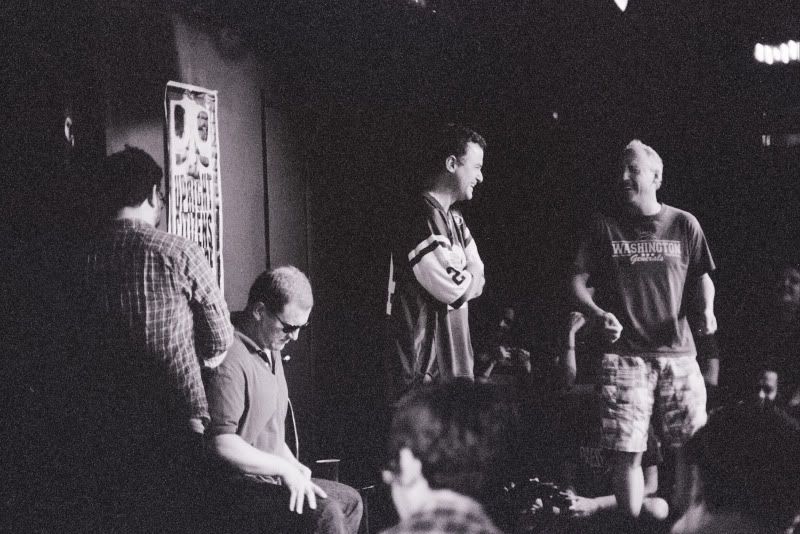 STEVIE WONDER AND HIS LAYERS OF SECURITY.
- Did a medieval themed monoscene, where Gavin was "Vinnie" who through a pizza truck time portal went back in time.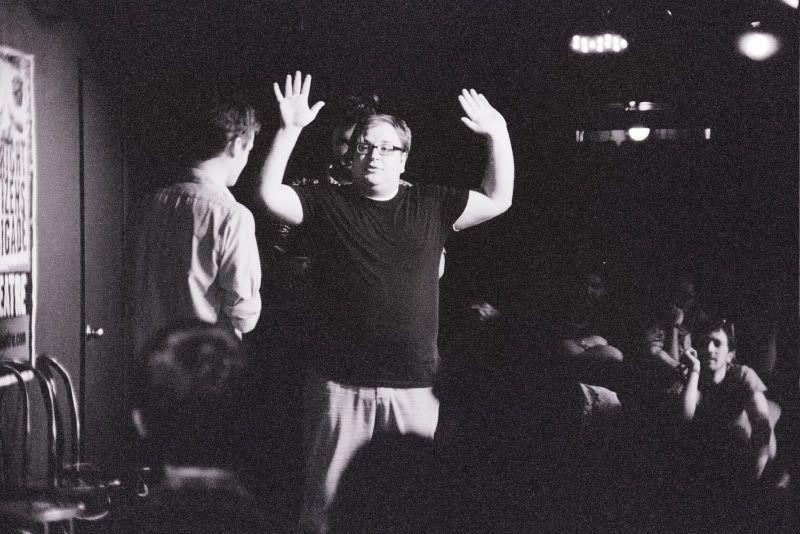 VINNIE.
-Scott Adsit and Matt Walsh sat in with Bassprov. Seeing Adsit work in a group like that was phenomenal. He was the definition of giving what the scene needs and not a drop over.
MAKING DEALS.
-Not only are they one of the best UCB LA teams, but they are also just one of the best overall. Their form of going back to a main scene, creating information and then just tagging to see those little scenes started slow, but once they got on a roll, they destroyed. Best improv show of the night by far.
IN THE JUNGLE.
FERNIE!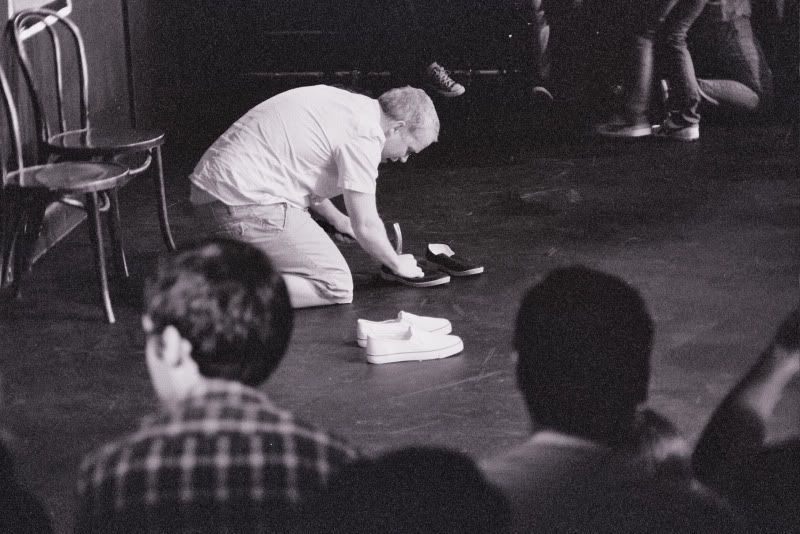 NAILING DOWN SHOES BY OWEN BURKE.
-Delaney and Secunda were mob men who were waiting for a produce truck to come so they could stock their produce stand, which was a front. Delaney had a great sub game where he would keep naming movie lines and plead with Secunda to name them, which he couldn't.
SECUNDA & DELANEY





Revolver
-Great team, great set. They had a group game where they called back a heist situation where a woman was holding a gun, but the odd way of how she was holding it got called out as a hook. This ensued to "well there's a gun on that hook!"
-She ended up reading a dirty limirick written by one of the kids that was about eating out a cat's pussy. It destroyed.
-In another scene while a man was being executed, a family member of the victum was brought in to see the execution at which point he looked at a flag (which had been a reoccurring motif in the set) and just said "Well would you look at that." So simple so funny.
-A kid mentioned to his mother about how she loves her other son, that died when he was six, more than him. Cut to the mother having a large child sit on her lap and him telling her about the kids making fun of him because he has an enlarged heart that can't sustain him. Very funny.
HOOK GUN.
COW DRAMA.
Doug Benson's Doug Loves Movies Podcast Live
BESSER RUINING DOUG'S SURPRISE FOR WHO'S ON HIS SHOW.
-Rob Lathan's Nihilist Jeff Foxworth was so on point with his cadence it was surreal. "If you put monopoly money in a collection tray at church and don't think its bad because there is no god, then you might be a nihilst.
-Adomian's Sheriff of Nottingham played by Alan Rickman was all in the stage presence. He owns any character he does, but even he couldn't hold it together for Lathan's Foxworthy. No one could.
-Santangelli as a high school narc. "Come on guys. Who's doing drugs?"
-Owen Burke as a character simply named Shortcuts.
-Darryl Strawberry. Nuff said
DARRYL'S GOT THE MAGIC STICK, SON.
Christian Lighthouse Players
-Gethard was Crystal Meth Mark humming prayer songs which led from Amazing Grace to Rudolf the Red nose reindeer. Klepper saying "Like a light bulb!" whether Crystal Meth Mark was singing Rudolf or a different song.
-Walsh was so high he could not keep it together.
-Anthony played the weird pastor who just fucked all the kids.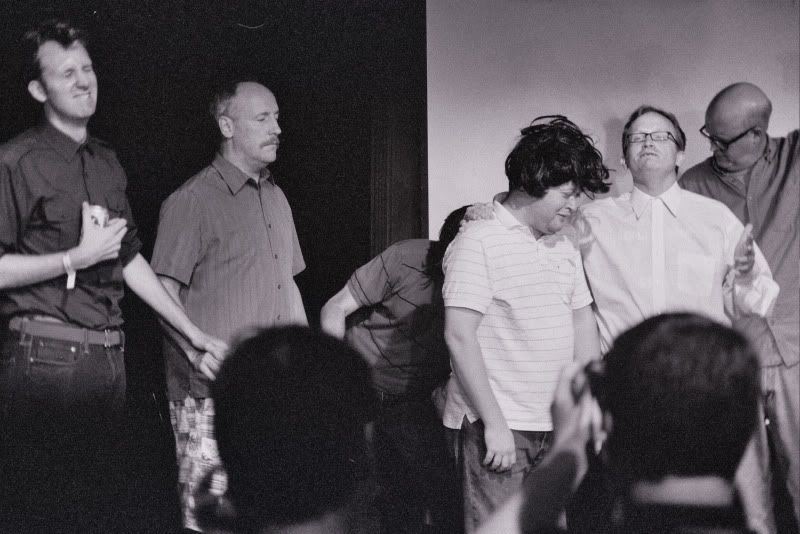 CRYSTAL METH MARK SERENADING.
OH BOY.
-Watch a video of it if you can find it. It would be a disservice to the show to try to describe it and the pure joy one can get out of it.
PURNS GETTING YOU FAGGOTS READY FOR REAL MAKE EM UPS.
SUPPORT WARK.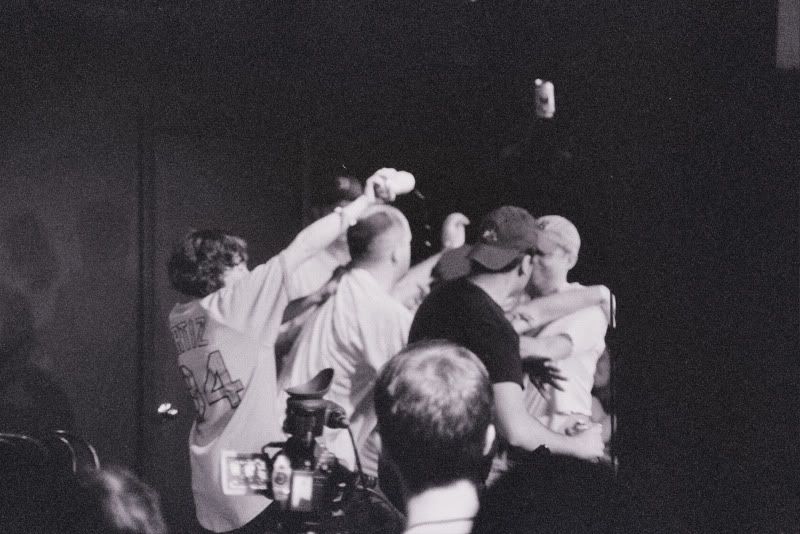 FUCKIN OBJECT WORK.
-Perfect for 15 min slot where someone would just create a weird name for the two people who came out making them have to talk as those characters. It was funny and quick. Can't ask for more.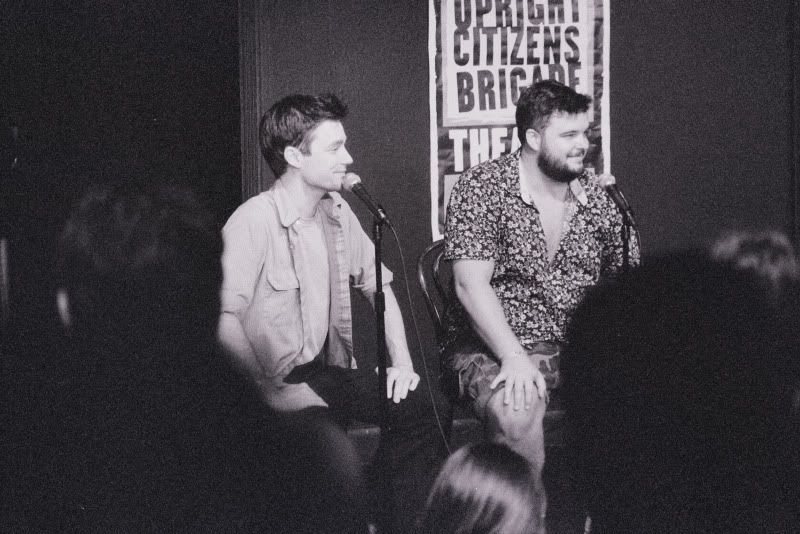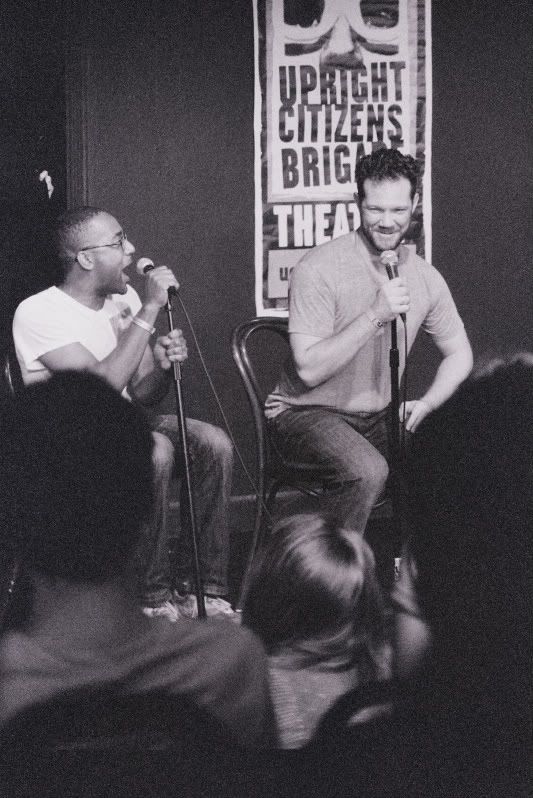 PURNELL AND THE GAY WEREWOLF.
"EVERYTHING IS COMING UP...BOLOGNA."
BRIAN'S BACK!
-The show quickly devolved into a meta set about calling out improv moves like basketball moves to the point where it just became a one on one basketball game. With Terry Withers as the audible basketball hoop.
-Anthony, Neil and Will did a living room set where they talked about NYC socialism, buying property and having moments.